US battered by second snow storm in a week
Comments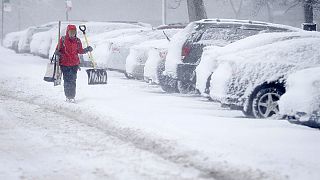 A second major snow storm in a week has hit the US, causing travel chaos across 1600 km stretching from Nebraska to Pennsylvania.
A huge winter weather system has buried the Chicago area under 30 cm of snow, closing schools and causing 1,600 flights to be cancelled.
Forecasters say the storm is particularly slow moving, leaving airports to deal with thousands of stranded and disgruntled passengers.
"Trying to get back today, our flight at 1:55 was cancelled. Unfortunately, we were here quite early because of the weather, and they didn't let us know until just now. So we're trying to see. They can't get us back out until Tuesday," said one traveller.
Snow is the only thing that could make me love nebraska pic.twitter.com/y1h73e2Ppp

— isabella (@isabellapaulitz) February 1, 2015
Icy conditions proved particularly hazardous in Nebraska a truck driver and a 62-year-old woman died in separate traffic accidents.
Parts of New England still recovering from last week's blizzard are bracing for up to 35cm of snow forecast for Monday.
In Illinois, 20,000 people were left without power. New York had prepared for a major storm but managed to avoid the worst.
Snow filled silence in #Chicago ~ If you went out for the #SuperBowl , please drive home with precaution. pic.twitter.com/GLEhXZZHiR

— Chicago History (@Chicago_History) February 2, 2015
Though most schools were closed across the Midwest, those heading to work prepared for an icy commute.