Release of another Al Jazeera journalist in Egypt "imminent"
Comments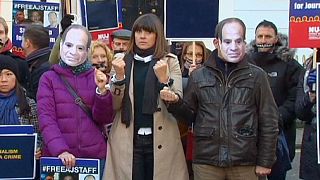 Canada says the release of another Al-Jazeera journalist from jail in Egypt is "imminent".
The news about Egyptian-Canadian Mohamed Fahmy comes just a day after another reporter from the station, Australian Peter Greste, was freed.
A total of three Al Jazeera staff were jailed last June on charges including helping the outlawed Muslim Brotherhood. They were sentenced to between seven and 10 years.
A cameraman, Mohamed Fawzy, was also arrested but later released.
Egypt has accused Qatar-based Al Jazeera of being a mouthpiece for the Muslim Brotherhood.
On Monday 183 Muslim Brotherhood supporters were sentenced to death on charges of killing police officers.
On his release, Peter Greste told Al Jazeera: "I can't tell you how relieved I am at being free, I really didn't expect it.
"We were settling in for a period of months behind prison, and for the retrial, and so to be out now today with just a few minutes notice really is just extraordinary.
He added: "This has been like a rebirth and you realise that it is those little beautiful moments of life that are really precious, and spending time with my family of course too."
Greste was to spend a few days in Cyprus before flying home to Australia.
Pressure had been growing on Egypt to release the three reporters, including Baher Mohamed, an Egyptian national.
The UN Secretary General was among those to welcome the release of Greste.
Ban Ki-moon said the case highlighted the importance of "safeguarding freedom of speech and association in Egypt".