Measles outbreak in the US: Obama urges parents to vaccinate children
Comments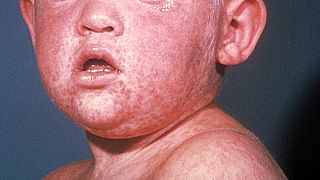 Health officials in the United States don't call it an epidemic (yet), but consider this: in January, at least 100 people in 14 states were diagnosed with measles, more cases than are typically reported in an entire year, according to the Centers for Disease Control and Prevention (CDC) in Atlanta.
"We are very concerned by the growing number of people who are susceptible to measles, and the possibility that we could have a large outbreak in this country as a result," CDC director Dr. Tom Frieden said in interviews to US networks on Sunday.
Most of the cases are traceable to an outbreak at Disneyland and another theme park in southern California that began in late December and has now spread to other states and Mexico.
As resort such as Disneyland where people from around the world spend a few days before returning home would be a perfect place to start a nationwide epidemic, health experts say.
The US declared measles eradicated in 2000, but the disease has resurged in recent years, fueled by epidemics in other countries that were imported to the United States.
The CDC reported 644 cases in 2014, by far the highest number since authorities counted 956 cases in 1994.
Measles is a childhood infection caused by a virus. Signs and symptoms include cough, runny nose, inflamed eyes, sore throat, fever and a red, blotchy skin rash.
Also called rubeola, measles can be serious and even fatal for small children. While death rates have been falling worldwide as more children receive the measles vaccine, the disease still kills more than 100,000 people a year, most under the age of 5, according to the Mayo Clinic in Minnesota, one of the leading hospital systems in the US.
The measles outbreak in the US is accompanied by a recent trend in which more parents have opted out of vaccinating their children – a serious concern to the US government.
President Barack Obama himself warned that children who are not vaccinated are putting infants and other people who cannot get vaccinations at risk. "You should get your kids vaccinated," Obama said in a NBC pre-Superbowl interview on Sunday.
"I understand that there are families that, in some cases, are concerned about the effect of vaccinations," Obama said. "The science is, you know, pretty indisputable."
The president was alluding to the fact that some parents are concerned about a possible relationship between measles and bowel disease and autism, based on now debunked and discredited recommendations by a British doctor in 1998.
Numerous studies since then have found no link between the vaccine and autism. Today, the US has a vaccination rate of more than 90 percent, one of the highest in the world.
Unvaccinated children put others at risk, including children who can't be vaccinated and those who have immune problems, Dr. Frieden said. "What you do for your own kids doesn't just affect your family— it affects other families as well."
The refusal of "anti-vax" parents to vaccinate their children for religious, ideological or other reasons have sparked a fierce debate on traditional and social media.
"Parents who do not vaccinate their children should go to jail," wrote Alex Berezow, founding editor of RealClearScience. "It could be the only way to send a strong message about the deadly consequences."