No more Troika talks as Greece seeks new debt deal
Comments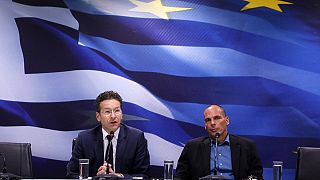 French President Francois Hollande and German Chancellor Angela Merkel have met with European Parliament President Martin Schulz in Strasbourg for informal discussions on issues affecting Europe.
Top of the menu Greece and the announcement from the new finance minister that his country will no longer negotiate with the "troika" group, which oversees the Greek bailout.
Yanis Varoufakis informed Jeroen Dijsselbloem, head of the eurozone group of finance ministers, during a frosty meeting in Athens: "Our common interest in Europe, in the Eurozone is best served by a new agreement that will come out of negotiations between all Europeans which we will attend with Europe's interests in mind."
The "troika" is due to complete its latest review of Greek finances in February, with the intention of delivering another €7bn of bailout cash.
Athens says it does not want the money, which it considers part of a "toxic" programme.
The government wants to reach a new agreement to halve Greek debt and end job, pay and pension cuts.