Outcry after London museum retires Dippy the dinosaur
Comments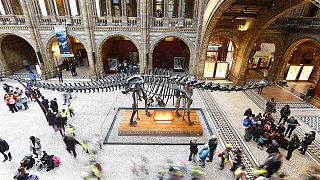 Protestors took to Twitter in their droves after The Natural History Museum announced plans to replace its showstopper dinosaur in the main hall with a whale.
Dippy, the dinosaur skeleton, is moving after taking centre stage in the museum for 35 years.
For many the reptile is a reminder of their childhood and they called on the museum to save Dippy.
Replacing #Dippy the dinosaur with a blue whale is the equivalent of replacing the Eiffel Tower with a stack of toilet rolls. #SaveDippy

— David Wriglesworth (@Wriggy) January 29, 2015
No!!!! There goes another piece of my childhood - Natural History. Museum chucks out Dippy the Diplodocus: http://t.co/E9wr5gJT7U

— James Mayhew (@mayhewjames) January 29, 2015
The diplodocus skeleton has been wowing visitors since 1979. And while many may be sad that the replica model will be leaving the main hall, Sir Michael Dixon, the museum's director, says he is hoping to send the creature on tour so that it may be seen by many more across the country.
"We are looking into whether it is feasible to do some sort of tour where he will have the opportunity to be seen by a great deal more people, not just people in London," said Sir Michael.
"If I am honest, he added, "there has been concern about Dippy going. But a lot of people do not realise that it is not actually a real dinosaur whereas the whale will be the real thing. Which I think is important."
The dinosaur was cast from a near-complete Diplodocus carnegii skeleton dug up in Wyoming, USA, in 1898.
As the world's largest animal, the blue whale is close to exinction as a result of human hunting and its story reminds us of the scale of our responsibility to the planet, says Sir Michael.
"This is an important and necessary change. As guardians of one of the world's greatest scientific resources, our purpose is to challenge the way people think about the natural world, and that goal has never been more urgent," he said.
The whale was acquired in 1891 for £250 after it was injured during a hunt and beached itself in Wexford, Ireland. The fossil has been on display since 1938 in the mammal's gallery.
The museum plans to suspend it in mid air to give the appearance of diving from the ceiling.