Fate of Egyptian Christians kidnapped in Libya unknown
Comments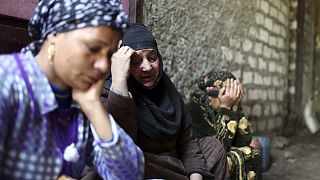 Egyptian workers kidnapped in Libya are still being held captive, the most vulnerable among them Coptic Christians. Their families have pleaded with Cairo to save them. They travelled to Libya for jobs in spite of the dangers there, driven to take the risk by Egypt's morose economy.
The current government of (former field marshal) President Abdel Fattah al-Sisi has been unable to rein in unemployment — now 13.4 percent, officially — since the army toppled Islamist President Mohamed Mursi in 2013, after mass protests against his rule.
Around a third of the young workforce have no means of earning an income, and those under age 30 make up 60 percent of Egypt's population.
Four out of ten Egyptians live on less than two euros per day.
It's hard in the cities, worse outside.
Al-Our lies 200 kilometres to the south of Cairo: no paved roads, no clean water, no source of income.
Young people cross the border into lawless Libya, desperate even for low pay; 27 Egyptians have been kidnapped there since August, 13 of them this month.
A kidnapped worker's mother in Al-Our pleads: "Bring me my son! He travelled for work, not to party, not for anything bad. I want my son, so he can raise his children. Will they grow up to ask me, 'grandma, where's our dad?' What should I tell them then? 'Your father went to Libya and never came back to me!'"
The kidnapping also stops money being sent home.
Thousands of Egyptians have sought work in Libya since the end of authoritarian order under Muammar Gaddafi in 2011, although the government in Cairo warns them of the dangers.
Al-Our is in Minya Province, a hotbed of militancy after decades of neglect — the kind of conditions that have driven young men to give up on the state and join militant groups in the past.
Another villager despairs of the authorities: "They had an official permit and they flew there with passports and all. Why didn't the state forbid them from going? They made a profit off their tickets, then let them fly off to their destruction. They forget about them and don't protect them!"
Relatives of the 27 kidnapped workers protested outside Cairo's United Nations offices last week after meeting Egyptian foreign ministry officials, who have said they are doing their best to help.