PACE call on Fifa to rerun 2022 World Cup vote
Comments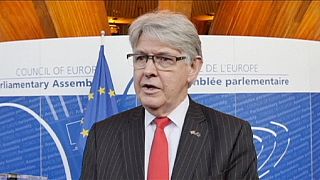 The ongoing debate over whether Qatar should stage the 2022 World Cup was taken to a whole new level on Tuesday.
The parliamentary assembly of the Council of Europe (PACE) has called on football's underfire world governing body Fifa to rerun the vote.
PACE claim in a report that the original voting process was "radically flawed" due to bribery and corruption.
The report's author Michael Connarty said: ''There's clear evidence which I have seen, paper evidence showing that a substantial amount of money changed hands to buy votes from the African Federation, which then tipped the balance and the Executive of FIFA to award the World Cup to Qatar and my report is recommending that recognition of that breach of law, that in fact they should rerun the 2022 World Cup process."
After Qatar was awarded hosting rights in 2010 allegations of bribery, vote swapping and collusion was rife.
Qatar was cleared of any wrong doing following an 18 month investigation by an independent ethics investigator, who later resigned in protest over the handling of his report.