Kurdish forces 'drive ISIL out of Kobani' in Syria
Comments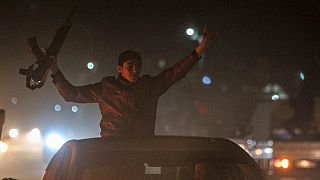 Kurdish forces have been celebrating after claiming to have driven militants from the self-proclaimed Islamic State out of Kobani in Syria.
A British-based monitoring group, the Syrian Observatory for Human Rights, said the town had been retaken.
A Kurdish flag was seen flying over Kobani, with jets in the air above.
The Syrian state news agency SANA cited local sources in saying the "terrorist organisation Daesh" had been expelled from the town.
But some ISIL fighters took to social media to say the battle was still raging, and in Washington the US State Department also said it was not over.
In a statement issued by the US Central Command, the American military praised "courageous" anti-ISIL forces who now controlled "about 90 percent of the town".
The statement went on to say that "ISIL's failure in Kobani has denied them one of their strategic objectives".
The Kurdish town close to the Turkish border has been on the front line of the battle against the extremist group which has terrorised civilians in enforcing a brutal form of what it claims to be Islam.
The celebrations have spread to Kurdish areas in Turkey. In Diyarbakir people poured onto the streets.
Thousands were forced into exile from Kobani after ISIL launched an assault last year.
Since then US-led forces have carried out almost daily air strikes while Kurdish fighters have battled on the ground.