Samaras: "my conscience is clear" says defeated Greek PM
Comments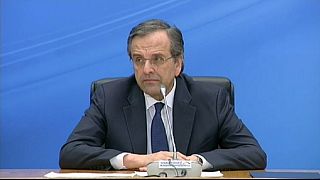 It was a disappointed Antonis Samaras who was forced to admit defeat on Sunday night. The leader of New Democracy had tried to convince voters that although he had entered office two and a half years ago at a difficult time his party had done much to restore the country's finances.
In his first interview after phoning to congratulate Alexis Tsipras, Mr. Samaras said:
"I took over a country on the verge of disaster. I was asked to hold 'lit coals' in my hands and I did it. Most gave us few prospects of lasting. But we withstood. We averted the worst. We pulled the country out of the deficits, out of the recession, we restored the credibility and the standing of our country, we laid the foundations for growth and for a final exit from the crisis."
"I handover a country that is a member of the EU and the euro. For the sake of this country, I hope the next government will honour those commitments……I have a clear conscience."
Euronews reporter Akis Tatsis was at the Zappeion Press Centre where Samaras had given his interview. Observing the leader out reporter said Samaras seemed to have accepted the outcome of the election and stressed that his party would remain the guarantor for Greece's European route.
Earlier as the results came in New Democracy supporters had seemed resigned to the outcome:
"We delivered the country with integrity, with a heavy load and under much pressure. But we have bone that load . Now, others have the responsibility," said one man.
Another expressed little surprise at the result:
"We expected this outcome, with the political decisions New Democracy had to make. Now, we will have Syriza, which has said and promised much."
New Democracy supporters have been left smarting over their distant second place. For many that feeling is now tinged with apprehension over which direction the victors will take the country.