Obama first US president to attend India National Day parade
Comments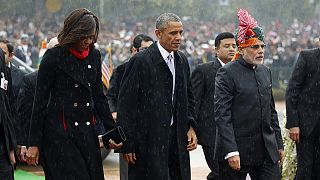 India's annual National Day parade has been attended by an American president for the first time.
Barack Obama was guest of honour among the thousands who braved pouring rain in Delhi to witness the flamboyant display of the South Asian nation's military strength and cultural diversity.
The holiday celebrates the adoption of India's first constitution on 26 January, 1950 – two and a half after India won independence from British rule.
Obama's highly symbolic visit and warm welcome the US president received from Indian Prime Minister Narendra Modi reflects the rapidly warming relations between the two countries.
Only just over a year ago, at the end of 2013, there was tension between Delhi and Washington when an Indian diplomat was arrested in New York.
For a whole decade the US had no relations with Modi who was even refused a US visa in 2005 following bloody anti-Muslim rioting three years earlier in the state of Gujarat, where the Hindu nationalist was Chief Minister.
This was the second day of Obama's visit, during which the two leaders also sealed a civil nuclear deal.
Away from the colourful festivities the two leaders were expected to discuss counter-terrorism, defence and other energy issues.
The US and India are looking to cooperate on jointly developing new weapons systems.
Both leaders have also highlighted the need to tackle climate change.
India is the world's third largest emitter of greenhouse gases after the US and China.
The parade saw the most tightest security precautions India is thought ever to have made. Some 15,000 cameras were installed along the parade route, snipers were deployed on roofs, and a no-fly zone was imposed over the area.