Looming Syriza victory gets mixed reactions in Athens
Comments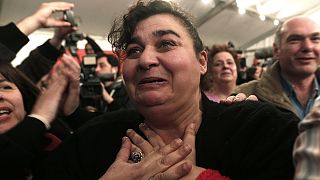 As Greece's leftist Syriza party looked set for a comfortable victory over the ruling conservatives in the Greek election, our reporter spoke to some voters inside the Syriza party pavilion in Athens.
The looming victory of Syriza, as the exit polls suggest, is seen as a strong message in favour of Europe. A message that expresses not only the wish of Greece, but southern Europe in general, which has experienced the austerity policy.
"I am unemployed, practically homeless," explained one woman. "I have very little money but I've been looking for a job for a few years. I believe that now things will change for the better."
"I am very excited and happy, because this is something new for Greece but also for Europe," said another. "It is a leftist party and we hope that this new beginning will help all of Europe as well".
So, as you'd expect, a strong sense of optimism inside the Syriza party pavilion.
We also spoke to some people inside the conservative New Democracy tent where the atmosphere was less optimistic.
"(This result) is not a good one for the party that I believe in," said one man. "I think that the Greeks voted in anger, because I don't think Greece could become a leftist country in such a short space of time."
Euronews correspondent Nikoleta Drougka reported: "The looming victory of Syriza, as the exit polls suggest, is seen as a strong message in favour of Europe. A message that expresses not only the wish of Greece, but southern Europe in general, which has experienced the austerity policy."