YouTube bloggers interview Obama at White House
Comments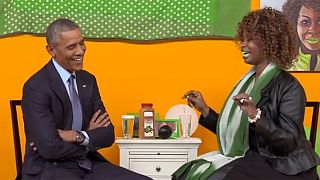 YouTube video bloggers have been giving US President Barack Obama a grilling.
The video interviews were shown on the White House YouTube page – and viewers were encouraged to join the discussions.
Obama answered questions about everything from the economy to drone technology.
He was also confronted with several personal questions, while speaking to Bethany Mota – whose fashion and decoration YouTube channel has over eight million followers.
Asked about what superpower he would choose, Obama said that being able to speak every language would be "cool."