Glitter, Yo and messages from the dead: bizarre business successes
Comments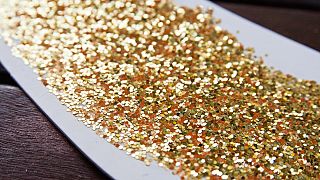 A start-up which launched only two weeks ago has been sold for more than 75,000 euros. So far, so normal in the world of internet entrepreneurship. The surprising thing is that the only function of this new business was to allow customers to send anonymously pots of tacky party glitter.
The founder of Ship Your Enemies Glitter freely admits he set it up "as a bit of a joke", but in the four days he spent running it was swamped with orders to the point where he went online to beg people to stop using it.
However he's not the first entrepreneur to find a surprising niche in the world of technology. Here are some other unlikely internet hits, still going strong after discovering a hitherto untapped human need.
ICanHasCheezburger
The site that clog up servers, inboxes and social feeds everywhere with
pictures of cats
, and occasionally other animals, doing cute/dumb/loveable (delete as appropriate) things.
Started in January 2007, by May the same year it was getting a million and a half hits a day. Almost single-handedly it drove the explosion of animal-based image macros and lolspeak into the mainstream, and made internet memes profitable. By September its creator sold out for more than 1.75 million euros. It's not clear whether the cats took royalties.
Knocked App
Creating something out of nothing is the fundamental concept behind Knocked App. Even Apple seemed initially unconvinced of its value, taking a whole two months to green light the project back in 2012 when it normally made similar decisions in just 10 days but since August of that year it has shot to the top of favourite app lists and made its trio of creators rich.
But what does it do? It allows users to alter photos of people to make them look nine-months pregnant. And, er, that's it.
LiveSon
The rise of social media means that everyone can share opinions across the internet and LiveSon mission is to extend that privilege beyond the grave. Thanks to its algorithms, subscribers can continue tweeting long after they've shuffled off their mortal coil and gone to the great spam box in the sky.
Yo
Around the middle of last year
this app
suddenly hit phone screens making its creators loadsamoney.
The advertising slogan is "it's that simple", and it really is. The site allows you to text "Yo" to pretty much whomever you like.