'Ethnic apartheid' exists in France, says PM Manuel Valls
Comments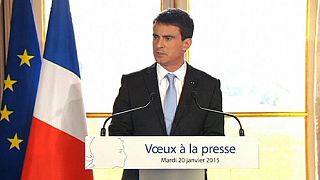 The French prime minister has said the country's recent terrorist attacks have exposed a "geographic, social, ethnic apartheid" present in society.
It has been described as one of the starkest indictments of French society by a government figure.
In a belated New Year's speech to journalists which began with a minute's silence, Manuel Valls listed at length the problems the country faced, which he said had reared their heads during riots in city suburbs in 2005.
He said there was an urgent need to fight hatred and discrimination, especially in deprived areas home to many communities of immigrant origin.
"Relegation of some to the suburbs, ghettos, things I was already talking about in 2005, a geographic, social, ethnic apartheid which has developed in our country.
Social misery, added to daily discrimination… because someone doesn't have a good family name, the right skin colour, or because she's a woman. It is by no means, and you know me, about looking for excuses, but we also have to look at the reality of our country," Valls said.
The French prime minister is due to announce new anti-terror measures on Wednesday.
Speaking during a best wishes ceremony to government bodies, President Hollande said that the aim of the measures was to improve current provisions to protect French citizens.
"The main thing is first to protect our fellow citizens whilst respecting the law. The bills of December 21, 2012 and November 13, 2014 have already extended our legal means to monitor and punish those who plot or consider participating in terrorist acts. But additional measures must be taken," Hollande said.
"The prime minister is working on it and will present them (the new measures) tomorrow: to control the movements of the jihadists, to reinforce our intelligence system, to prevent the propagation of radical Islamism in prisons, and to better monitor and prevent the activities of this influence on the internet," he added.
Hollande said that France would continue to act in the respect of freedoms and would not infringe its principles by setting up these new rules.
Four men in their twenties were due to appear before a judge in Paris on Tuesday, suspected of helping one of the Islamist gunmen behind the recent terrorist attacks.
The group is accused of aiding the man Amedy Coulibaly, believed to have murdered a policewoman as well as four people at a Jewish supermarket the next day.
A funeral has taken place for Clarissa Jean-Philippe, the policewoman who was shot dead. Some 500 people turned out for the ceremony which took place on the French overseas territory of Martinique.
Meanwhile, the mayor of New York has been in the French capital to pay tribute to the victims of the attacks. Bill de Blasio visited the kosher supermarket and the offices of Charlie Hebdo where 12 people were killed.