Anti-terror crackdown intensifies in Europe
Comments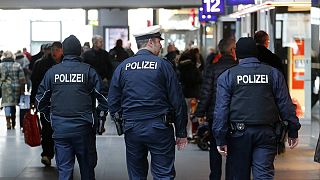 With Europe still on high alert over the terrorist threat after the Charlie Hebdo killings in France, police in Germany have raided 13 homes – mostly in Berlin – and taken away computers and mobile phones for analysis.
They were targeting alleged associates of two men detained in the German capital in a long-running probe into a suspected extremist cell recruiting fighters for Syria and providing logistical support.
"We are still searching for further evidence that the group, of which we have already arrested two people last week, have transferred money to Syria as well as sent equipment," said Berlin police spokesman Stefan Redlich.
But as the fear factor spreads across Europe, German authorities stress there are no signs in this case that any attacks on home soil were being prepared.
"Specifically the accusations concern the preparation of a serious and subversive
act of violence in Syria. We need to make that very clear. It is not a question of planned attacks in Germany," said Martin Steltner, a spokesman for the Public Prosecutor's Office.
Separately in Athens, an Algerian man suspected of links to a foiled Islamist militant plot to attack police in Belgium, is set to be extradited there swiftly.
The 33-year-old didn't contest the move, saying he wanted to prove his innocence.
He was among half-a-dozen people detained in Greece on Saturday, two days after police raided a suspected Islamist group in the east Belgian town of Verviers and killed two gunmen.