Syriza says it is ready to rule Greece and Europe 'should not be afraid'
Comments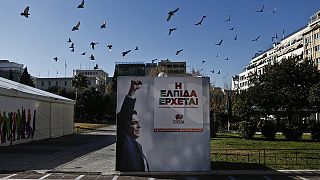 We are ready to rule!
The message to Greece from Alexis Tsipras and his anti-bailout Syriza party – extending its lead in opinion polls less than a week before a general election.
It has set alarm bells ringing in Europe with left-wing Syriza pledging to negotiate a debt reduction and an end to budget austerity – though it insists it is committed to keeping Greece in the euro zone.
"Europe should not be afraid of parties like Syriza," said party spokesman Panos Skourletis.
"If it is going to be afraid of anything it should be afraid of itself. What I am referring to are the dominant strategic policies of extreme austerity, which have been imposed primarily by the main power in Europe, Germany."
In an opinion poll at the weekend Syriza had widened its lead over Greece's ruling conservatives.
Voters, disillusioned with mainstream parties after years of austerity imposed by
foreign creditors under a bailout deal, are seeking a new more assertive approach.
In a similar vein, Greece's long-running campaign to secure the return of the Parthenon Marbles has gathered new momentum.
The ancient marble statues, also known as the Elgin Marbles, have been the subject of acrimonious dispute since they were taken from Ottoman-ruled Athens by the Earl of Elgin, bought by the British state and placed in London's British Museum in 1816.
The UK refuses to hand them back.
With George Clooney's lawyer wife Amal now in their corner in this fight, Greeks are standing up to Britain – as well as Europe – and saying 'enough is enough'.