'Down with France' shout anti-Charlie Hebdo protesters as 5 die in escalating violence in Niger
Comments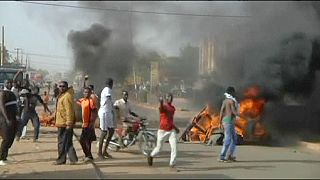 'Down with France, down with Charlie' shouted protesters in Niger on Saturday (January 17).
Hundreds took part in violent demonstrations in the capital Niamey in retaliation for the publication of satirical cartoons of the Prophet Mohammad in Charlie Hebdo magazine.
Latest reports suggest five people were killed in the most recent bout of violence, taking the death toll to ten over two days of rallies.
Police sources say two charred bodies were found in a church in Niamey. Another woman, who is believed to have died of asphyxiation from tear gas and smoke, was found dead in a bar.
The latest protest in the former French colony was sparked by the authorities' decision to ban a meeting of Muslim leaders. Police sources have confirmed four preachers suspected of convening the meeting were later arrested.
Demonstrators threw rocks and set fire to a number of churches in the capital. A police station was also attacked and two police cars set on fire. The police responded with tear gas.
The French embassy in Nigers has warned its citizens to remain indoors.
There are also reports of violent demonstrations in regional towns. Churches are said to have been set on fire in Maradi, 600 kilometres east of Niamey, and in the eastern town of Goure. In the latter town, a residence of the foreign minister is also believed to have been set alight.