Belgium on high alert after two die in police anti-terror raid
Comments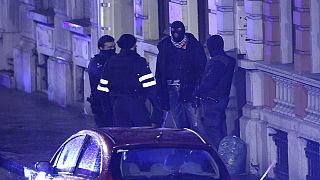 Two suspected jihadists have been killed in the Belgian city of Verviers in an anti-terror raid as similar operations continued overnight in Brussels and surrounding areas.
This group was about to commit terrorist attacks on a grand scale in Belgium and imminently.
Though it comes just a week after gunmen killed 17 people in Paris, the Belgian investigation had been under way before the attack on Charlie Hebdo and said there was no clear link between the two.
"The raids were carried out in the framework of an investigation bearing on an operational cell made up of people of whom some had come back from Syria," explained Belgian Federal Prosecutor Spokesperson Thierry Werts. "The investigation was able to establish that this group was about to commit terrorist attacks on a grand scale in Belgium, and imminently."
Amateur footage recorded at the scene captured the moment when police commandos were met with gunfire as they tried to access a flat above a bakery. Scenes which have left many of the locals shaken.
One witness describes how he heard bursts of gunfire and explosions. When asked how he felt he said "a little shocked and a little afraid and surprised that it could happen here.
A third man was detained during the raid on Belgian nationals returning from Syria who are suspected of planning attacks on police stations.
Security has been tightened in response and the terror alert has been raised to its second highest level.