Belgium: Two suspected Islamists dead in shootout with police
Comments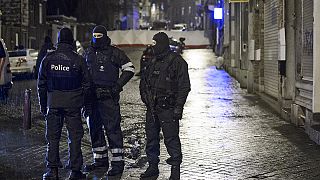 A shootout with Belgian police has left two suspected Islamists dead.
Explosions were also reported as officers carried out an anti-terror raid in the eastern town of Verviers – one of several nationwide against jihadists thought to have returned from Syria's civil war.
Authorities probing an alleged terror cell said they believed it was on the point of committing major terrorist attacks in Belgium.
"As search warrants were being carried out, the suspects immediately opened fire for some minutes with military weaponry and handguns on special federal police units before being neutralised," Assistant Public Prosecutor Thierry Werts told reporters.
A third suspect was arrested in Verviers, between the city of Liege and the German border. No police officers or civilians were hurt.
No link has been established at this stage between events in Belgium and last week's deadly Islamist attacks in Paris.
Belgium has seen significant radical Islamist activity among its Muslim community.
Per head of population, it is said to be the European country from where the highest number of citizens have taken part in fighting for the Syrian rebels in the past four years,.
Police raids are also said to be underway in Brussels – where a man was reportedly seen brandishing a weapon and shouting religious slogans in Arabic at a metro station.
Other raids are said to have taken place at Molenbeek-Saint-Jean, at Vilvorde and in Anderlecht.
Belgium's terror threat level has been raised as far as the country's police stations and courts are concerned.
The public prosecutor's office in Brussels said another news conference would be held on Friday at 11.00 CET.