Pope Francis arrives in Sri Lanka urging inter religious harmony
Comments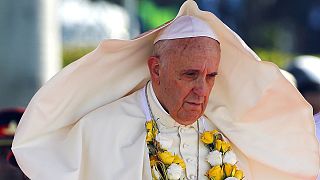 Pope Francis has arrived in Sri Lanka, where he will spend two days before flying on to one of the Catholic church's strongholds, the Philippines.
He is the first pope to visit the island since a 26-year-long civil war ended in 2009, and his mission is to help interfaith healing after the war's bloody conclusion, which left the Hindu Tamils crushed and the Buddhist Sinhalese majority triumphant.
"It is no easy task to overcome the bitter legacy of injustices, hostility and mistrust left by the conflict. It can only be done by overcoming evil with good," he said on his arrival.
Francis's visit comes at a political turning point, with the president who won the war just turned out of office by a newly elected leader who says he is committed to setting up a truth commission, which his predecessor rejected. Francis appeared to echo that call on arrival.
Around seven percent of the Sri Lankan population is Christian, and it has recently suffered at the hands of Buddhist extremists.