Erdogan gives a warrior welcome to Mahmoud Abbas
Comments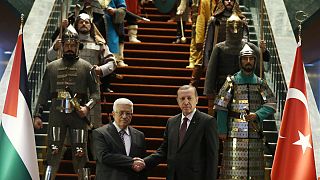 Turkish President Recep Tayyip Erdogan laid out the red carpet in Ankara for the Palestinian President Mahmoud Abbas along with 16 warriors dressed in historical military costumes.
The two met to discuss the failure of the United Nations Security Council to adopt a draft resolution on setting a deadline to end Israel's occupation of Palestine, reconstruction of Gaza following the conflict last year and issues relating to Palestinian statehood.
The guardsmen are said to symbolise each of the 16 empires of Turkey, which date from before the Hunnic Empire – founded around 200BC – through to the Ottoman Empire, which eventually made way for the foundation of the Turkish Republic. They are also said to symbolise the 16 stars of the seal of the Turkish Presidency.
Abbas was greeted in the Turkey capital a day after he stood shoulder to shoulder on a march with world leaders against the attacks in Paris.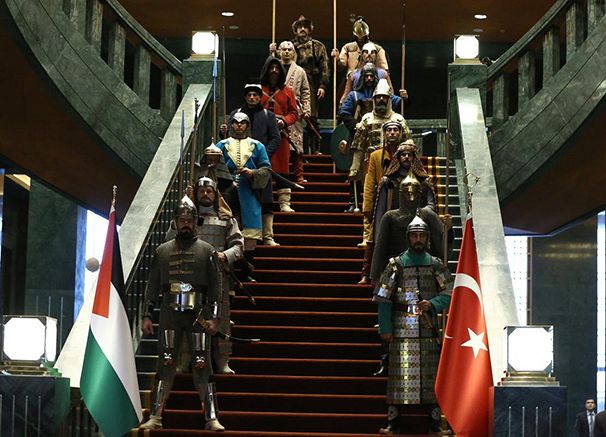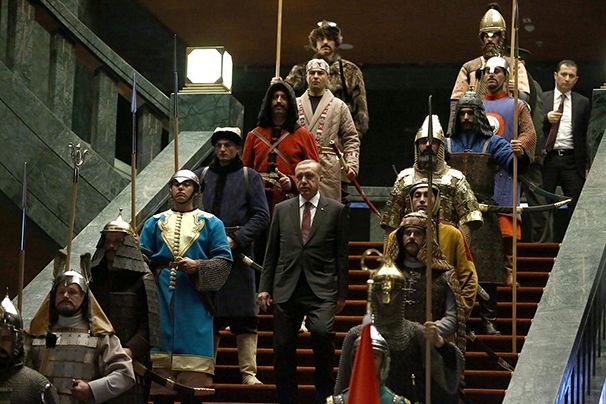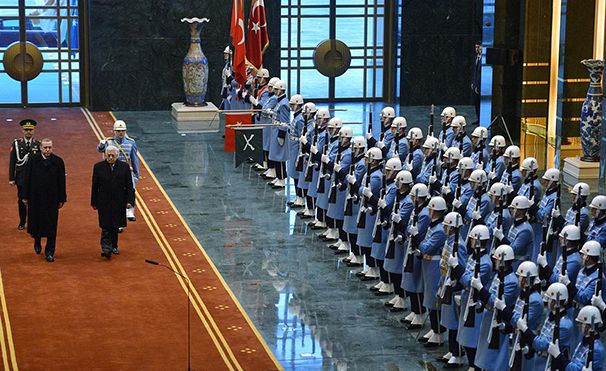 The photos were taken in the presidential palace, recently opened and built at a cost of some $350m (280 million euros). The building has more than 1,000 rooms and was built on an area declared a protected site in 1992. While media reaction in Turkey to Abbas's welcome was muted, social media was scathing.
Now his new presidential palace starts to make sense. #Erdogan is creating his own Disneyland! http://t.co/WNa7NLiBAKpic.twitter.com/Ej2fmZIhjE

— Cas Mudde (@CasMudde) January 13, 2015
That awkward moment when I can't tell which one is photoshopped. #Erdoganpic.twitter.com/1WOOLTOGnp

— Serge (@Zinvor) January 12, 2015
I am officially announcing my retirement from satire, because there's no way I can compete with this. No way. Done. pic.twitter.com/4Zo3NkIifc

— Karl Sharro (@KarlreMarks) January 12, 2015
No photoshop, no joke! Erdoğan welcomes M. Abbas with 16 soldiers, who represent 16 historical Muslim/Turkish states pic.twitter.com/OsI3qRGvi4

— Elcin Arabaci (@elcinarabaci) January 12, 2015