French marchers express faith in values of la République
Comments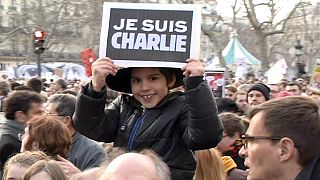 The call for a Republican March drew an unprecedented number of French citizens.
The slogan 'I am Charlie' seen everywhere encapsulates the desire to express opinions without fear.
Recent years' giant marches and rallies in France have been to reject something; these marchers, in cities across the country, all spoke out in support of something, in defence of the values of the French Republic.
One woman spoke about Charlie Hebdo's economist, saying: "I'm grieving the loss of a very good friend, Bernard Maris. Whenever we called he responded. The saddest thing for us when we heard about the attack and the first thing we did was call him, was he didn't answer."
People from other countries took part, as well, like this young woman: "It's a privilege to be here. I hope everyone stays together. I'm Canadian, with Muslim family."
Another participant said: "I just want to tell you I'm here today to say Islam is not what happened. Islam is love and tolerance."
Another joined in: "Our religion didn't teach us that."
One man said: "So many people, a lot of human warmth… we're united in this."
The nation's largest city, Paris, had the biggest crowds, but in proportion the southern city of Lyon saw roughly one quarter of the population turn out. The Paris estimates go as high as two million, with as many as 300,000 in Lyon.
In both cities our journalists were out talking to people.
A Lyonnaise said: "I couldn't not be here, to share, to see that we're not alone. It feels good to close ranks and show we are not afraid."
This was followed by: "I weep from my very soul that all of France itself is ablaze. I don't want it to happen to France — what I lived through in Algeria. I don't want that to happen to France."
And this man from Iran said: "They are extremists, those who want to eliminate the freedom of expression everywhere in the world. Iranian writers and cartoonists, and those of all countries, must unite to fight against that idea."
A French national of Arab origin said: "We have confidence in our country. We're not at all afraid. The French are smart. Vive la France!"
Representatives of Lyon's Press Club were in the forefront of the march there, along with
representatives of the police. Many families brought young children, saying they wanted them to grow up in the certainty that they will be free to speak out.