Croatia elects Kolinda Grabar-Kitarovic, its first female President
Comments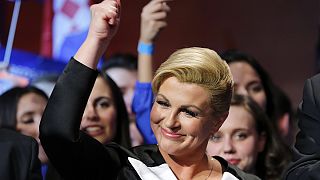 Kolinda Grabar-Kitarovic has been elected Croatia's first female president.
Winning by a whisker, the conservative challenger came out on top amid
public discontent at the centre-left coalition's inability to end years of recession.
But some, like Zagred resident Stjepan Markus, can't see any improvement coming.
"I expect nothing to get better," he said.
"Until the economy picks up, nothing will change. We need jobs and we know how politics works here. They do nothing."
The job is largely ceremonial, but Sunday's victory by Grabar-Kitarovic, 46, Croatia's former foreign minister and assistant to the NATO secretary general, may herald a comeback for the conservative HDZ in a general election due later this year.
She can however expect months of tense cohabitation with the Social Democrat-led government before Croats vote again.
She will replace incumbent Ivo Josipovic who had been seeking a second term with the support of the increasingly unpopular Social Democrats.
Those on the winning side celebrated victory on the streets with Grabar-Kitarovic taking office on February 19.
But light at the end of the tunnel looks a long way off.
Croatia, the EU's newest member country, has 19 percent unemployment. Its economy is not expected to grow in 2015.