Thousands rally worldwide for second night to remember Charlie Hebdo victims
Comments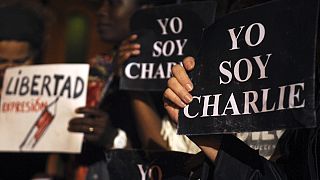 There have been more vigils around the world in tribute to the 12 people murdered in the attack on the offices of the satirical weekly Charlie Hebdo in Paris.
They only thing we did was to use humour and make our readers laugh and think
Eight of the dead were staff members, two were police officers, one was a visitor and a another a cleaner.
"The future is Charlie" read one large banner in Rome where large crowds gathered outside the French embassy.
Armed with candles and posters, the crowds stood mainly in silence in the ancient Roman square where the embassy is located. Books of condolences were laid on a table outside the embassy building for people to sign.
Many of those attending the vigil said they had been shaken by the events.
Tareke Brhane, who arrived in Italy from Eritrea on a migrant boat and today heads the "Comitato Tre Ottobre", an organisation set up after 360 migrants drowned in a shipwreck near the island of Lampedusa on October 3, 2013, said he hoped to see better protection for journalists.
"It is the right thing for us be here tonight, regardless of our nationality or faith. We are here for them, together with them, to give them a voice. We also want to make an appeal not just to the European Union but also to the international community to support these people, and in some way facilitate their work because it is their job to recount what is happening in the world," he said.
In Athens one of the banners at the French institute read "I do not hate; I am not afraid".
So many turned up that the surrounding streets were closed for several hours.
Charlie Hebdo's Athens correspondent Aggeliki Kourouni was there.
"They took the head off our newspaper. They only thing we did, was to use humour and make our readers laugh and think. That was our weapon, we are a satirical magazine. Our mission was to satirise everything without limits and without being afraid of any threats," she said.
She said their only crime was to use humour to make their readers laugh and think.
Visiting the French embassy in Washington, President Obama wrote in the condolence book: "As allies across the centuries, we stand united with our French brothers to ensure that justice is done and our way of life is defended. We go forward together knowing that terror is no match for freedom and ideals we stand for – ideals that light the world."
He signed off with the words "Vive la France".
In Brazil a silent vigil was held in Niteroi, against the backdrop of the nearby Rio de Janeiro skyline.
Brought together by a local non-governmental group Rio de Paz, its organiser Antonio Costa said there was a need to respond "when a big menace threatens peace between peoples".
Thousands of people attended candle-lit vigils in several cities in Australia on Thursday night.
Around 2,000 people gathered in Sydney for a vigil in Martin Square, just weeks after a deadly siege at a cafe in the area.
Paloma Clement, a 22-year-old student from Lyon who organised the gathering via social media, said they wanted the square to be remembered not for that, but as "somewhere where people come together to fight against this violence and this hate".
​