Two-time MotoGP champion Marc Marquez staying grounded
Comments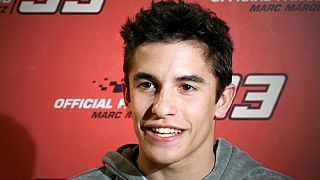 A two-time Moto GP World Champion and a double champion in the minor categories, Marc Marquez is a motorcycling phenomenon and the pride of Cervera, his home town. A superstar in the 'two wheels' world, but a very 'down to earth' person in everyday life, the 21-year-old rider has already made history and is going to continue to do so.
Euronews met up with Marquez in Cervera at the inauguration of his new fan club.
Euronews: ''Marc, congratulations. Did you expect a season like this?''
Marc Marquez: ''Thank you so much. You never expect such a good season do you! Honestly I thought I would have to fight for the title because that was my goal, but I didn't think I would win 13 races, have 13 pole positions and win the title so early. You could say it was a perfect season.''
Euronews: ''In 2008, before you won your first Moto3 title you said that your dream was to one day become a Moto GP World Champion. You have already achieved that feat twice. What's your dream now?''
Marc Marquez: ''My biggest dream was to become champion in the three categories and I have done it in Moto GP twice! Now my aim is to fight for the title every year but I have another dream – to help young riders. It's when you are a child that your family needs help. Not every family can afford to help its own child.''
Euronews: ''What does it mean to you, being compared to great champions like Doohan, Rossi and Agostini?''
Marquez: ''It's unbelievable because they are motorcycling legends. Especially Valentino Rossi, who was my hero when I was a little boy. I used to see him at the top and think I could never reach his level. Now I'm competing against him and learning a lot. It's something I used to struggle with but now I'm more used to it. It's a privilege to be compared to these legends.''
Euronews:''Who do you think is your most dangerous rival, the one who scares you the most?''
Marc Marquez: ''Coming into the season, the most dangerous I would say is Rossi because he finished second last season but I know that Jorge Lorenzo is a really dangerous rival as well because he is in the right mood. He is focused and is always hard to beat. There's also Dani Pedrosa, who's consistent and even though he doesn't make too much noise, he's always fighting for the title as well.''
Euronews: ''When you were four, you asked your father for a motorbike. Why not a go-kart or something else?''
Marc Marquez:'' I don't really remember but I know I did because my parents used to go to a circuit close to here to watch bike races and they helped as volunteers. I used to go with them from a very young age. I was about 2 so I think my passion comes from those times. Seeing all these bikes made me want one too!''
And what did his mother, Roser Alenta, think when Marc asked for a real motorbike?
Roser Alenta: ''I thought it was just a passing phase. As for any child who asks Santa for something. He asked us for a gas powered motorbike and I thought that when he got it, he would just play with it for about 3 or 4 months.''
Euronews: ''What's your best memory?''
Marc Marquez: ''My best memory is really recent. It's from last November in Valencia when I saw my brother clinch the World title. I had already won that title and had that experience. Seeing my brother become Champion was something I'll never forget, it was a unique experience.''
Euronews: ''Are you envious of anything your brother has that you don't?''
Marc Marquez: ''When we go out partying, well, I envy his height. He's taller than me!''
Alex Marquez: ''Well yes my height, he says he envies me but it is good for him to be shorter.''
Marc Marquez: ''As brothers, we're not really jealous of each other because we have the same things. We're always together, training, travelling, going on holidays. And it's always good to have a brother who shares the same interests as you to race with and who you can train with. We share the same way of life''.
Alex Marquez: ''I envy his four titles. I've only got one! I think every driver on the grid envies him.''
What will happen when the two brothers compete against each other in MotoGP?
Marc Marquez: ''So far, we help each other a lot. If one day we're both in MotoGP, well, we'll see. I think that if one of us wins, we would both be happy. If one day we have to compete against each other, it will be a good thing and we'll manage it.''
Alex Marquez: ''Well I hope I have this problem one day because it will mean that I'm in MotoGP, in the frontline fighting with him and this would be a dream. There's a long way to go, though, and I prefer not to think about it now, but i hope one day it will happen.''
Julia Marquez, father of Alex and Marc: ''At the moment, Alex is in Moto2 and Marc in MotoGP. If Alex works well, he will get to the top, fingers crossed and then… may the best man win!''
Euronews: ''Family is really important to you. Now that you're going to move, are you going to miss your family, Cervera and your friends?''
Marc Marquez: ''Of course my family has always been very important to me and we've always been really close. Like all young people, sooner or later it's time to have your own place, your own space. I want to take things slowly and see how it goes. I don't mind coming back to my parents' house if need be, they always make me feel very welcome.''
Euronews: ''Thank you so much Marc and good luck for next season.''