Charlie Hebdo: France's cartoonists won't kneel
Comments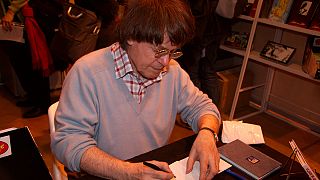 As one of the strange hybrids that are commonplace here at euronews, I feel an urge to pick up my pen and share with you my thoughts and sorrow on this very sad day. Though I am a member of the English-language team of journalists, I grew up in France. As a child, my weeks were punctuated by a near-religious appointment with the kids TV programme Recré A2 every Wednesday. One of its regular guests was Cabu, one of the cartoonists assassinated on Wednesday at the headquarters of Charlie Hebdo in Paris. Cabu, with his funny bowl haircut and understated demeanour had a semi-permanent, almost apologetic grin on his face. A few perfectly executed lines, another apologetic grin, and there was the genius on paper, that made every kid in France smile. Kids and adults alike loved him, even if they didn't always agree with him. And Cabu wasn't alone in his quest for the evermore humorous, original, and often biting drawings.
On Wednesday, five of France's best cartoonists were killed and with them a huge chunk of France's heritage is gone, the promise of many more smiles, and many more challenges to bigotry, racism, extremism. They were part of what makes me proud of my French heritage – an unfailing love of the freedom of expression, which sometimes causes the French to be derided abroad, but is also a founding stone of France's national identity. France is all the poorer for their passing. But I also know there are scores of young Cabus, Wolinskis, Tignous, Charbs and Honorés out there, just waiting to draw their markers and fire their art in the name of democracy. Artists and journalists who, in Charb's words, would "rather die standing than live kneeling".
To them, and to the seven other people who lost their lives for our freedom, my humblest respect, admiration, and gratitude. Long live freedom of expression.