Tens of thousands hold a vigil for the victims of the Paris terror attack
Comments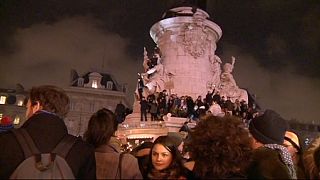 Holding pencils in the air as the weapon of choice for journalists and chanting "Liberty!", thousands gathered on the Place de la Republic in central Paris on Wednesday night.
It was an act of defiance against the shooting dead of 12 people at the offices of the satirical magazine Charlie Hebdo by masked gunmen.
With emotions raw, many taking part in the rally had personal reasons for being there:
"I went and bought today's paper and I'm very emotional …. this is the last drawing by cartoonist Cabu ….this is hard I can tell you," said one man with the name 'Cabu' written on his brow in respect for the celebrated cartoonist who was one of those who died in the attack.
"I came with my son," said one woman," I came with friends too because just tonight it was not possible to stay in front of my television and listen to all this sad news. I grew up with Charlie Hebdo. I learned to draw with Cabu and I am very sad tonight and I am very sad for the families and for my country."
A young man directed his comments at the three men who carried out the attack:
"A prophet with a bomb on his head, this has not always been pleasant to see – especially when you do not have radical ideas. But as I have the right not to like these cartoons, Charlie Hebdo has the right to publish them because we are in democracy. And if you do not like this, you cannot live in a democracy. And today there are many people who came and many Muslims who came to tell these guys, these terrorists who did that, that they are fighting for Saran (the devil) and not for Allah.
In cities throughout France the same scene was being acted out. With the slogan 'Je suis Charlie', rallies in support of freedom of expression turned into spontaneous vigils for the victims and their families.