François Hollande condemns 'cowardly' attack on satirical magazine Charlie Hebdo
Comments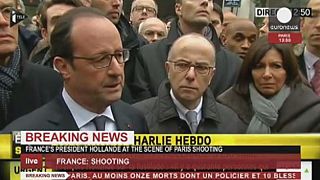 French President François Hollande wasted no time in going to the Charlie Hebdo offices to express his regrets and promise justice for the attackers.
This is the transcript of his statement to reporters:
"An act of exceptional barbarism has been committed in Paris against a newspaper. A paper, in other words, an organ of free speech. An act against journalists who had always wanted to show that in France it was possible to defend one's ideas, and exercise their rights that are guaranteed and protected by the Republic.
"Police were on hand to protect them, and they too have been gunned down, killed in a cowardly fashion, at the moment when I speak to you 11 lives have been lost, four are in a critical condition, and we still do not know the final cost of this tragedy. We have been able to get 40 people out to safety, and we have set in motion the anti-terrorist plan used in major incidents.
"The people responsible for this are now hunted men. They will be hunted for as long as it takes. They will be arrested and face justice for their crime.
"Today France is in shock; the shock of a multiple assassination, a terrorist attack. That much is clear; Charlie Hebdo had received threats in the past, and was under police protection. We must all stand together at this difficult time. We must show we are a united country. We know how we must react, and our response will be firm, always taking into account that national unity.
"These are tense times. In the last few weeks we have foiled several terrorist plots, and we have known we were threatened, like other freedom-loving countries, and it is for precisely this reason we are targets. Because we are a free country we can overcome these men of violence and punish them for their crimes.
"No-one can be allowed to think they can get away with such things in France, and strike at the heart of republican values through one of its pillars, an independent press."
Live updates on the Charlie Hebdo shooting