Peshmerga fighters and Syrian rebels make ground on two separate fronts
Comments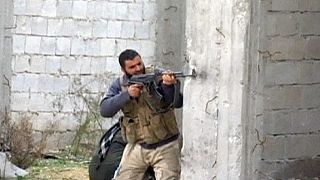 Kurdish Peshmerga forces are said to be in control of more than 80 percent of the Syrian border town of Kobani – according to a British based monitoring group .
Islamic militants known as ISIL have been driven back since Turkey allowed the Kurdish fighters through its Syrian border.
The news comes as a battle rages on a second front in what's become known as the forgotten fight in Aleppo.
The newly formed Shamiyya Front
rebel group which emerged in December claims to have liberated parts of the city from forces loyal to President Bashar al-Assad.
Shamiyya Front stands along side the more hardline Islamist groups in the battle to control the strategic city.
Meanwhile in a move which is hoped will install a new impetus in the search for a political end to the almost 4-year-old civil war, the Western-backed Syrian opposition coalition, based in Istanbul, has elected a new president, a Damascus born doctor called Khaled Khoja
However unlike previous elections , there was no candidate from the Saudi-backed bloc which some have said was a signal of the decline in their interest in backing the body.