Captured Greek terrorist Xiros was plotting an armed assault on a prison in the next few days - police
Comments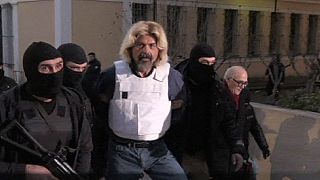 Greek police claim that Christodoulos Xiros, a member of the disbanded November 17 group, who was re-arrested on Saturday, was plotting an armed assault on an Athens prison.
Xiros (56) who had been on the run for one year after absconding while on leave from prison, appeared before a prosecutor on Sunday. It's alleged he was planning to free former members of the group.
His lawyer Fragiskos Ragoussis said Xiros has been completely on his own for the year he was a fugitive, keeping one step ahead of the police who were searching for him and breathing down his neck.
Xiros told his lawyer that he gathered all the equipment that was found when he was captured using his own resources.
Xiros was serving multiple life terms for his role in Greece's most lethal terrorist group
which killed Greek, US and British diplomats before it was dismantled in 2002.
He was discovered on Saturday near the Greek capital in a house filled with weapons and explosives. Police suspect he was being helped by others to evade capture and are looking for his accomplices.
While on the run, Xiros who describes himself as a political prisoner, he appeared in a video vowing to avenge the economic pain that ordinary Greeks have suffered under international bailout programmes supervise by a "troika" of the European Union, the European Central bank and the International Monetary Fund.
Our reporter in Athens Fay Doulgkeri said:
"Wearing a bullet-proof vest and escorted by heavily armed policemen of the counter-terrorism unit, Xiros left the building of the Police headquarters in Athens. As his lawyer said earlier, he is not going to give any information to the authorities about the year he was at large."