Video of kidnapped Italian aid workers claims to show women still alive in Syria
Comments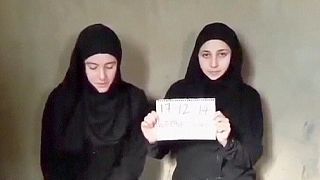 Video has just been released suggesting that two unofficial Italian aid workers captured in Syria in August are still alive, although the footage states it was shot on December 17.
They are reportedly being held by the al-Nusra front in an undisclosed location. In the video they call on mediators to do all they can to speed their return, and insist the Italian government is responsible for their safety.
The small NGO for which the women work has been heavily criticised for its amateurism in sending the non-Arabic-speaking pair into Turkey to cross into Syria without papers and with a rucksack full of money.
Others have speculated there was a more sinister objective behind the aid mission, notably to provide money for weapons.