Syrian President visits soldiers in Damascus in rare public appearance
Comments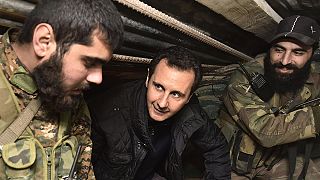 In a rare public appearance in recent times, and complete with patriotic music, Syrian state television has shown footage of its embattled president.
Bashar al-Assad has been shown visiting government soldiers in a suburb on the outskirts of Damascus.
The area visited is reported to have come under heavy fire from the Syrian air force on Wednesday.
The district was taken over in 2013 by insurgents fighting to topple the Assad regime.
The visit comes as a group monitoring Syria's war, which has been raging for nearly four years, gave a casualty update.
The Britain-based Syrian Observatory for Human Rights says more than 76,000 people were killed in 2014, roughly half of them civilians.
Last summer the UN estimated that more than 190,000 people have died since the conflict began, but other groups say the figure is now much higher.