Russians optimistic for New Year despite looming recession
Comments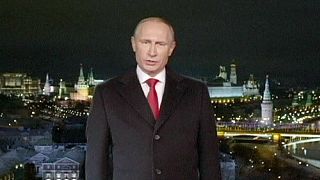 The lights of Russia's economy are burning brightly but as the country heads into recession, many are choosing to stay at home rather than spend during the New Year festivities.
Having endured so much change and hardships in the past, one Moscow shopper said she hopes 2015 will be different: "Here everything changes so often. I wish for there to be more stability than change."
Hip hop singer Vasya Oblomov's "Letter to Santa Claus" is a popular track asking for a new president who can be returned if anything goes wrong. But the catchy tune has failed to dent the popularity of the Russian president.
Despite the fall of the rouble and a rise in tensions with the West, polls show that support for Vladimir Putin remains resoundingly strong with many Russians feeling an extra surge in national pride.
Putin and his allies blame the economic problems on what they call external factors, principally the West. His critics say he may have revived the country's former glories but he' is incapable of rescuing Russia from its current crisis.