Norway's Ullevalseter sets pace in Africa Eco Rally
Comments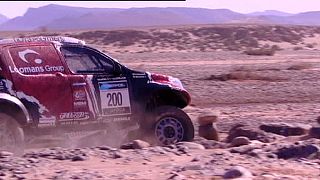 Stage 3 of the Africa Eco Race saw the competitors tackle the longest section of the rally – a total of 450 km from Tagounite to Assa in Morocco.
For the first time in the race the big dunes loomed.
That posed no problem for Norway's Pal Anders Ullevalseter who cruised to victory for the third time in three stages on the motorbikes.
In the cars Stage 3 went to Jacques Loomans.
The Belgian now sits in third place in the overall standings.
Yuriy Sazonov from Ukraine leads.
Stage 4 sees the cavalcade leave Assa and travel the 394 km to As Sakn.