Norway's Pal Anders Ullevalseter keeps up the pressure in the Africa Eco Race
Comments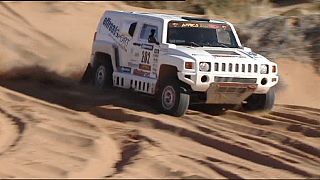 And they're off once more on day two of the seventh edition of the Africa Eco Race which is taking competitors through Morocco, Mauritania and Senegal.
Winner of the second stage motorbike category was Norway's Pal Anders Ullevalseter who is also currently ahead in the general standings.
In the auto camion category, Frenchmen Mathieu Serradori and Didier Haquette took the honours in the second stage.
But leading the overall standings are currently Miroslav Zapletal and Bartlomiel Boba from the Czech Republic.
And Portugal's female driver Elisabete Jacinto made here presence felt finishing the stage ninth to lie 10th overall.
.