Brazil's President Rousseff starts second term with anti-corruption pledge
Comments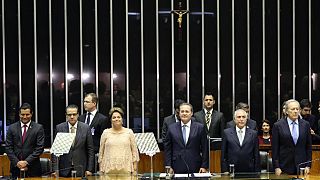 Brazil's President Dilma Rousseff has begun her second term in office.
As she took the oath, Rousseff promised to rein in government spending to lift Latin America's largest economy out of a four-year slump.
Outside parliament, thousands of people turned out for the inauguration ceremony in the capital Brasilia.
"I assume, here, in front of you, my commitment to usher in a new historic process of social change in Brazil. Yes, we will make adjustments to the economy, but without revoking rights acquired or betraying our social commitments," Rousseff told the crowd.
A stagnant economy, messy public finances and a large corruption scandal threatens to overshadow her term.
Brazil's largest company, oil giant Petrobas is accused of paying kickbacks to politicians as bribes and campaign contributions.
Rousseff, who chaired the firm during a period when much of the alleged corruption took place, has promised a full investigation and denied any wrongdoing.