Bad weather hampers dive for lost plane as AirAsia search continues
Comments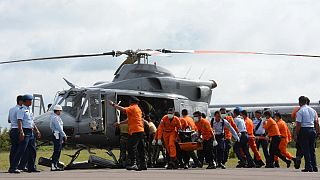 Only air searches are continuing in the waters off Indonesia as divers wait for bad weather to ease before attempting a salvage operation on what is believed to be AirAsia's submerged Airbus.
Only a shadow has been seen on the seabed, but divers are convinced it looks enough like a fuselage to be worth investigating.
This is despite the fact no signal has been detected from any flight recorder.
The authorities are saying a full search may take a week.
"The ship involved in the rescue operation is equipped with an underwater locater to detect a black box signal and also a multi-beam sonar to detect metal and give three-dimensional underwater images," said the Operations Director of the National Search and Rescue Agency, Tatang Zainuddin.
Families of those on board are starting to arrive at a hospital in Surabaya to give DNA samples to help in identifying the victims.
Only seven bodies have been found so far out of the 162 people on board, and hopes of any survivors have been all but extinguished.