Illegal immigrants "hidden in hold" onboard burning Greek ferry
Comments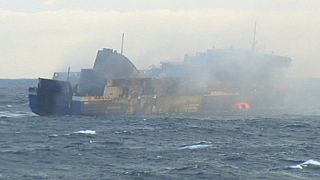 Two Albanian seamen have been killed as they were towing a car ferry that had caught fire off the Greek island of Corfu, after the cable connecting their boat to the ferry snapped and hit them.
It adds two more deaths to the toll of at least 10 from the disaster.
More than 400 people were rescued from the vessel by the Greek and Italian navy but it is unclear how many are still missing.
It has emerged that illegal immigrants were stowed away on the ferry at the time.
Italian prosecutor Giuseppe Volpe said "We have no doubts anymore that the boat had illegal immigrants on board. They were probably hidden in the hold. Our fear is that once we will examine the wreck, we will probably find other corpses".
A number of the people rescued were not on the ship's list and dozens of names on the list are still unaccounted for. It's not clear if they drowned or were not on board in the first place.
Those who were rescued say it is a miracle they survived with the decks burning under their feet, thick smoke around them and gale force winds.