2015 Africa Eco Race: Ullevalseter shines in Morocco
Comments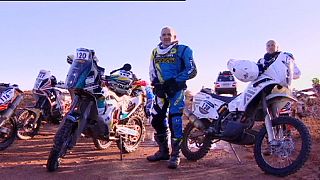 Norway's Pal Anders Ullevalseter produced a stunning performance to set the pace after the opening stage of this year's Africa Eco Race in Morocco.
The former world champion, who finished second overall in the 2010 Dakar Rally, dominated his opponents from the outset and clocked an impressive time of 1 hour, 1 minute and 54 seconds to lead fellow countryman John Olav Lindtjorn in the bike category.
Belgium's Jackie Loomans also enjoyed a great start in the car category. The Toyota driver completed the course in a winning time of 1 hour, 37 minutes and 15 seconds with Andrey Cherednikov and Miklos Kovacz second and third respectively.