Early Greek general election 'was inevitable'
Comments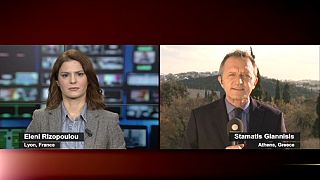 In a move some fear could jeopardise Greece's international bailout, parliament has failed to choose a new president, rejecting the ruling coalition's nominee for the post, the former European Union commissioner Stavros Dimas.
Most Greeks do want political change, as they appear exhausted by four years of austerity
The country now faces early elections, as required under Greek law, which are expected within the next month.
Euronews correspondent in Athens Stamatis Giannisis explains the background to the latest developments.
"From the moment the government failed to persuade the 25 independent MPs and those of the smaller right and left wing parties to support Mr Dimas for the presidency, the general election was inevitable. In any case both the government and the opposition were prepared for such an outcome, as the incumbent president's term in office was due to end in two months time."
Elena Rizopoulou, euronews, Lyon:
"In recent opinion polls Syriza has a lead of between 2.5 and 6.5 percent even though it's unlikely to win a majority. What's the feeling in the streets of Athens? Do people want these elections and do they believe that Syriza can change things?"
Stamatis Giannisis, Athens:
"The truth is that although most voters don't want an early election, the lead that the left wing Syriza party has in all recent polls over the conservative New Democracy, demonstrates that most Greeks do want political change, as they appear exhausted by four years of austerity, and they're asking for more people-friendly policies. On the other hand, the ruling conservatives appear equally determined to put up a fight throughout this pre-election period in order to turn the tables."
euronews:
"The election complicates still more relations with lenders, the EU and the IMF and brings back the scenario of a Grexit (a Greek exit from the euro). The press is calling this another "Black Monday" as the stock market lost more than 11 percent."
Stamatis Giannisis:
"When a serious political event like the call of an early election takes place, the stock markets always tend to be touchy. Also, the political situation is highly polarised, with some members of the present government asserting openly that if the left wing Syriza party wins the election it will drive the country out of the eurozone, and Syriza is dismissing those accusations claiming that it will renegotiate the loan agreement within the eurozone."