More than 1,000 migrants rescued off Italian coast on Christmas Day
Comments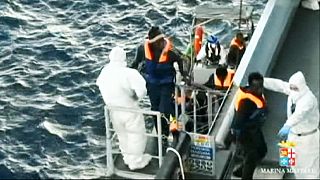 At least 1,250 refugees and migrants were rescued by the Italian navy in four different operations on Christmas Day.
They were taken onto the Navy ship 'Etna' where they received medical check-ups before being transferred to the Sicilian port of Pozzallo.
While onboard Etna, a Nigerian mother gave birth to her baby, with the help of Italian medical staff.
On another boat, Italian emergency services discovered the body of a man who had died during the journey.
One other man who was showing symptoms of malaria or TB, was transferred by helicopter
Most of the migrants came from Syria and Eritrea.
It follows a rescue operation on Christmas Eve in which more than 1,000 migrants were saved.