Egypt bans 'Exodus' film because of 'historical inaccuracies'
Comments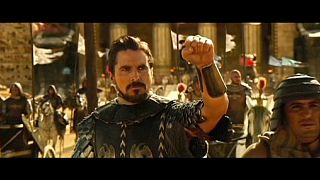 Egypt has banned the Hollywood film "Exodus: Gods and Kings" because of what it describes as "historical inaccuracies."
The country's cultural minister says the biblical blockbuster is rife with mistakes – including an apparent claim that "Moses and the Jews built the pyramids."
The Ridley Scott film is also said to explain the parting of the Red Sea as a "tidal phenomenon" rather than a divine miracle.
It is reported that Morocco has also banned the film, despite it already having been approved by the state-run Moroccan Cinema Centre.
"Exodus" has sparked mixed reviews and upset some Christian groups.
Critics say Scott has taken too many liberties with the Bible and cast Western actors in Middle East roles.
Egypt has censored other movies in the past, including the blockbuster "The Da Vinci Code" after protests from the Orthodox Coptic Church.