Nicaragua announces start of work on China-backed canal
Comments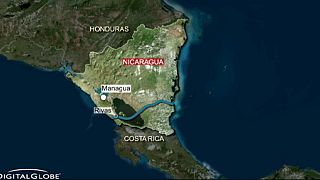 Nicaragua has announced the start of work on a controversial shipping canal costing almost 50 billion euros in a project backed by China.
The government says that the 278 kilometre waterway would raise economic growth by 10 percent annually and would rival Panama's waterway.
Speaking at the groundbreaking ceremony Nicaraguan President Daniel Ortega said, "with the wealth that a project of this type generates, we will have greater possibilities of completely eradicating extreme poverty and poverty."
Nicaragua Announces Start of Canal to Rival Panama (http://t.co/GiH4UiRale) http://t.co/7njZQLztpSpic.twitter.com/60oumHcqOv

— 1001portails US (@1001ptUS) December 23, 2014
Scheduled for completion in 2019, the canal would cut through the middle of the country, bisecting Lake Nicaragua, the largest reserve of drinking water in the region.
Nicaragua's Rival to Panama Canal Set to Start Dec. 22 – http://t.co/HtxuYiKvcvpic.twitter.com/ylKbaC6ytO

— Charlie Pesti (@CPesti) December 23, 2014
A pipe dream
The project has attracted criticism with protests springing up around the country.
Nicaragua canal to break ground, hoping to rival Panama; anger against project growing – http://t.co/fpb2qx6fUlpic.twitter.com/Sx9TYd6DFr

—

CBS

News (@CBSNews) December 21, 2014
Questions remain over how the second poorest country in the Americas will finance the canal, as well as how much land will be seized and how it will affect Lake Nicaragua.
In order to meet the required depth for the canal, the Lake will have to be dredged. Many of the 30,000 Nicaraguans living along the route fear the environmental impact.
Without financing in place, others say the project is merely a pipe dream.