Red-hot Real crowned Kings of the World
Comments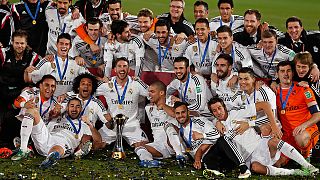 Welcome to The Corner, our weekly programme dedicated to the world of football.
Real Madrid ended the year with a bang. The current La Liga leaders lift their 4th trophy of 2014 by winning the FIFA Club World Cup in Morocco.
So Carlo Ancelotti's European champions outclassed competition debutants San Lorenzo 2-0 to clinch the Club World Cup at the Marrakech stadium on Saturday.
After a relatively slow start to the game, centre back Sergio Ramos headed home a Toni Kroos corner-kick to hand Ancelotti's men a 1 goal lead going into the break.
Real Madrid stepped it up a gear in the second half with Gareth Bale making sure of the win in the 51st minute after a costly mistake from goalkeeper Sebastian Torrico.
The win against the Argentine club sees Los Merengues extend their winning streak to 22 games.
It was Real's first Club World CUp title but second for Ancelotti after he steered AC Milan to the title in 2007 and second for Cristiano Ronaldo who won it with Manchester United the following year.
Up and Down
Let's continue with this week's edition with 'Up&Down' and who has made our list this week and why.
- On the up are Manchester City who piled the pressure on Premier League leaders Chelsea by recording their eighth win on the trot in all competitions and seventh from their previous eight league outings.
- On the down – and this has been the case since he joined Liverpool – is Mario Balotelli. But the latest chapter in the Italian's controversial career is a one match ban and a 25 thousand pound fine for a racist post he made on social media. He has also been ordered to undergo an education course for the incident.
- Joining Balotelli on the down list this week is Marco Reus.
The 25-year-old Borussia Dortmund player was found guilty of driving without a licence and fined a German record of 540 000 euros.
He had been driving with no licence for the past three years.
On this day
Staying with footballing punishments let's go back 10 years, when on this day the Spanish football federation had to whip out the checkbook to pay a fine, lets see why?.
On 22 December 2004, FIFA fined the Spanish Football Federation €60,000 as punishment for racist chants during a friendly between Spain and England at the Bernabéu Stadium the previous month.
The abuse consisted of monkey chants directed against England's black players, including defenders Ashley Cole and Rio Ferdinand, as well as substitutes Jermaine Jenas, Shaun Wright-Phillips (pictured), and Jermain Defoe.
While such chants have a regrettably long history in football, the chants at the Bernabéu were notable for the pervasive participation of the crowd – according to one spectator, 80% of the crowd were chanting.
The event came on the heels of an earlier incident in September, when Spain manager Luis Aragonés had been overheard calling Thierry Henry a "black shit" when trying to motivate Henry's Arsenal teammate, Spanish international José Antonio Reyes.*
The incident drew wide condemnation from authorities and commentators in several countries, including Spain itself. Afterward, the Spanish Football Federation began work on an anti-racism campaign.
We might be wrong
Whilst most other leagues are on winter break now, it never stops in England.
On Friday the traditional 'Boxing Day' fixtures take place.
We've selected three Premier League matches and had a go at predicting the results.
Send us yours, on the social networks, using #TheCornerScores.
Chelsea 3-0 West Ham
Manchester United 2-1 Newcastle
West Bromwich 1-2 Manchester City
Bloopers
Moving on to Bloopers now and we have got into the festive spirit with this one. Don't forget you can send us some funny links that you find on the net using #TheCornerBloopers.