Cuba policy changes won't happen overnight, says Obama
Comments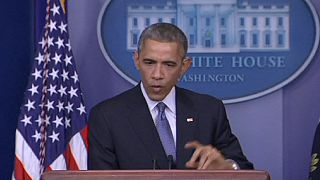 US President Barack Obama said he does not expect a quick end to US sanctions on Cuba. Two days after reinstating diplomatic relations with Havana, he said that change would not happen overnight.
The president was speaking at his year-end news conference.
Obama said he is a "fairly young man" and would visit Cuba, but had no plans to do so now.
"This is still a regime that represses its people and as I said when I made the announcement, I don't anticipate overnight changes, but what I know deep in my bones is that if you've done the same thing for 50 years and nothing has changed, you should try something different if you want a different outcome", said Obama.
The president said that recent incidents in Ferguson, Missouri, as well as the Eric Garner case in New York, are helping grow awareness about a persistent racial divide in the United States.
"These are not new phenomena. The fact that they're now surfacing, in part because people are able to film what have just been in the past, stories passed on around the kitchen table, allows people to, you know, make their own assessments and evaluations. And you're not going to solve the problem if it's not being talked about", Obama said.