Children targeted in Pakistan's deadliest militant attack in years; 132 students are killed
Comments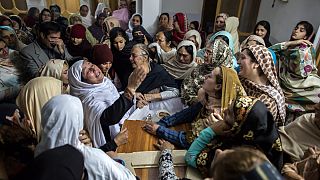 Summary
When we came out we saw in the corridors our friends who had been shot three or four times, some dead and some injured. Their blood was all over the place
Pakistani Taliban have killed at least 141 people, most of them children
Police announced the rescue operation at a military-run school in Peshawar ended with the death of a ninth militant
Prime Minister Nawaz Sharif travelled to Peshawar. He called the massacre a "national tragedy" and declared three days of mourning
The Taliban said the attack was in revenge for a Pakistani military offensive in June in the North Waziristan
A national tragedy
Pakistan is in shock, with hundreds of children targeted in the country's deadliest militant attack in years.
A total of 132 children and nine staff are now known to have died after Taliban gunmen stormed a large military-run high school in the northwestern city of Peshawar.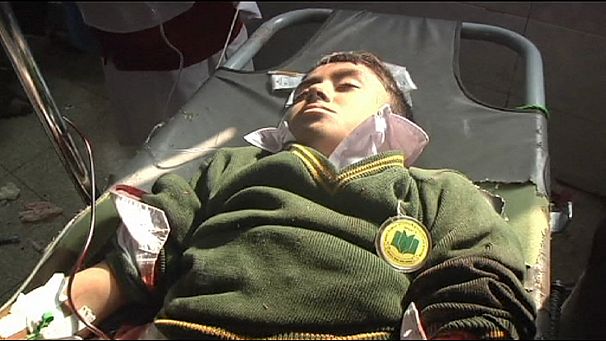 After a battle that lasted hours, soldiers killed all of the nine militants who opened fire and set off bombs.
Many children managed to escape or were rescued by soldiers quickly on the scene. But more than
120 children have been wounded, many seriously.
One wounded student in hospital said: "We were inside our classroom. We locked the door from inside, but three attackers fired on the locked door and entered our classroom and opened fire on us."
PHOTOS: The aftermath of a Taliban attack on a school in the Pakistani city of Peshawar. http://t.co/3PP2QqI9gvpic.twitter.com/6THdcCCqfA

— Reuters Top News (@Reuters) December 16, 2014
The Taliban immediately claimed responsibility, saying it was in revenge for recent military operations against it.
Many of the students at the military-run school were the children of army personnel, striking at the heart of the country's powerful military.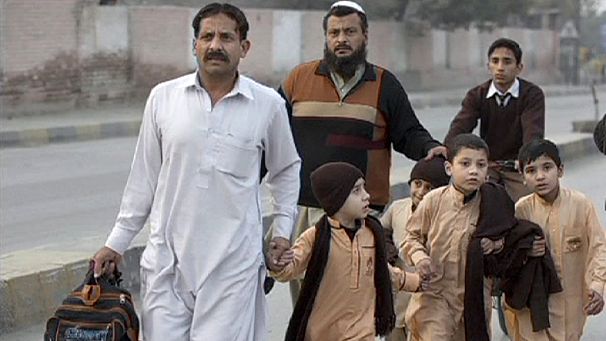 Another wounded student: "As soon as the firing started, our teacher made us sit in a corner and told us to lower our heads. After around an hour, when the firing subsided a bit, army personnel came and rescued us. When we came out we saw in the corridors, our friends who had been shot three or four times, some dead and some injured. Their blood was all over the place."
Some 1100 children and teachers were inside the school when it was struck by the militants who had explosives strapped to their bodies.
Many of the victims, aged between 10 and 20, managed to scramble to safety, and soldiers were able to evacuate many of the wounded.
Army personnel shifting the school children on motorbike
#WeStandWithPakistanArmypic.twitter.com/CYn0Ooaiv0

— Rizwan Khan

PTI

(@RizwanKhanPTI) December 16, 2014
The country's Prime Minister Nawaz Sharif has called the massacre a "national tragedy".
Prime Minister leaves for Peshawar. All meetings in Islamabad cancelled for today. pic.twitter.com/fxZ93CTcra

— Maryam Nawaz Sharif (@MaryamNSharif) December 16, 2014
Major hospitals in the area Lady Reading Hospital and Combined Military Hospital (CMH) appealed for blood donations, @wajahatullahkh7 tweeted this photo of people queueing up to donate blood.
Peshawar k awam ne sabit kar diya k hum darne wale nhi aur Hazroo log blood donate karne k liye hospital ponch rhe he pic.twitter.com/iqwxngadA8

— Engr.Wajahat khan (@wajahatullahkh7) December 16, 2014
The Taliban said the attack was in revenge for a Pakistani military offensive in June in the North Waziristan region.
The organisation said six assailants wearing jackets lined with explosives had been sent to attack the school, adding that it had been targeted because the army targeted its families, and "we want them to feel our pain".
Earlier, a spokesman for the Pakistani Taliban said what he called its suicide bombers had instructions only to target military personnel.
The city of Peshawar lies not far from the Afghan border. The Pakistani Taliban have been extremely active in the region as they fight to topple the government and set up a strict Islamic state.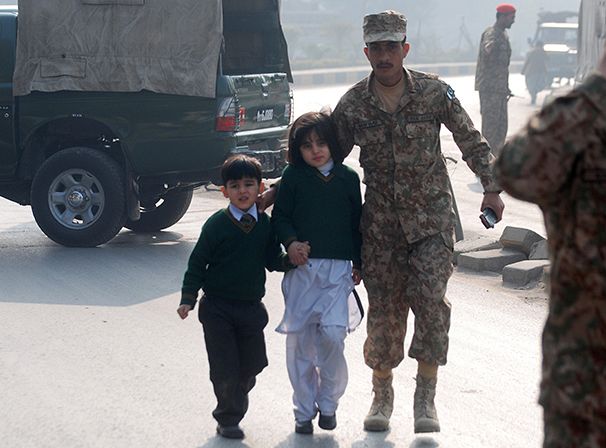 World leaders have condemned the attack. India's Prime Minister Narendra Modi called the attack "a senseless act of unspreakable brutality". The British Prime Minister said the news was "deeply shocking" adding "It's horrifying that children are being killed simply for going to school."
It is a senseless act of unspeakable brutality that has claimed lives of the most innocent of human beings – young children in their school.

— Narendra Modi (@narendramodi) December 16, 2014
The news from Pakistan is deeply shocking. It's horrifying that children are being killed simply for going to school.

— David Cameron (@David_Cameron) December 16, 2014
The President of neighbouring Afghanistan also joined the condemnation.
Strongly condemn the insane/coward attack on a school in K.Pakhtunkhwa. I seek patience/strength from Allah(swt) to the families of victims.

— Ashraf Ghani (@ashrafghani) December 16, 2014
US President Barack Obama pledged support for the Pakistan government's efforts "to combat terrorism and extremism and to promote peace and stability in the region."
Nobel Peace Prize winner Malala Yousafzai, herself a victim of Taliban violence, said she was "heartbroken by the senseless and cold-blooded act of terror in Peshawar" and added: "I, along with millions of others around the world, mourn these children, my brothers and sisters – but we will never be defeated".
A video statement from #Malala#PeshawarAttackhttp://t.co/FZjoW1hrSY

— Malala Fund (@MalalaFund) December 16, 2014