An exhibition fit for The King in London
Comments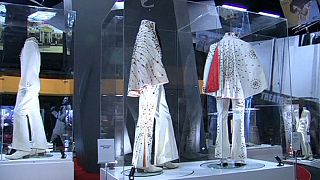 London is all shook up with the opening of a new exhibition dedicated to the King of Rock and Roll.
Housed at the O2 Arena, the collection numbering 3,000 artifacts is the largest display of Elvis memorabilia to have crossed the pond.
Elvis never visited London and only ever set foot on British soil once, so die-hard fans will be happy to hear the exhibition which allows them to access Graceland via Greenwich will last nine months.
Angie Marchese, Director of Archives, Elvis Presley's Graceland explains what visitors can expect.
"We're also going behind the scenes, we're taking you into Graceland where he entertained friends and raised a family. Everything from seeing his set of keys to Graceland, through his wallet that he carried with him and opened up and there was a picture of his daughter. We also have things from when he was a child that his mum saved, his third grade report card, his first grade crayon box, really trying to give people a total sense of who Elvis was."
Details of how Elvis met his less than glamorous end are absent from the collection. He died on August 16 1977 at the age of 42. His use of prescription drugs was cited as a possible cause of death, although a later autopsy attributed his premature death to a sudden, violent heart attack.
For his biggest fans he will remain forever young.
"Elvis was 42 and he'll always be 42. That's the thing, the rest of the entertainers are getting older but of course Elvis never will and so fans identify him at 42 years old," explained David Wade, "Strictly Elvis UK" fan organisation director. He was even lucky enough to have met the man himself.
"He had so many styles, he had such a perfect voice, but there'll never be another Elvis. Elvis was Elvis," said Wade.
From his rhinestone jumpsuits to school report cards the exhibition appears to walk a line between the man and the myth, but for many he will always remain a legend.