US Justice Department releases revised guidelines banning racial profiling
Comments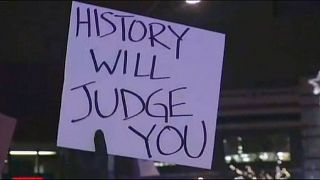 The USJustice Department has finally produced its long awaited changes to federal law enforcement guidelines banning profiling based on gender, race and sexual orientation.
" we can't afford to do law enforcement on the basis of stereotypes"
Back in 2003 the department issued its first racial profiling guidance which banned it on race and ethnicity but granted exceptions for national security.
Civil rights groups said the exceptions were "a licence to discriminate".
The newly revised guidance expands the characteristics it protects to include religion, national identity and general identity.
US Attorney General Eric Holder said, "we can't afford to do law enforcement on the basis of stereotypes."
It comes as a series of racially charged protests continue to be held in the wake of the killing of unarmed black men by police officers.
New York has been the latest to challenge policing procedures.
Meanwhile President Barack Obama has warned that effective changes to people's mind sets will take some time:
"When you are dealing with something as deeply rooted as racism or bias in any society, you've got to have vigilance but you have to recognise that it's going to take some time and you just have to be steady."
New Yorkers on Monday evoked the last words of Eric Garner who died saying he couldn't breath while being held in a chokehold by an officer, to demand justice and equal treatment at the hands of the police.