Optimism and uncertainty at Lima climate talks
Comments
By
Joanna Gill
with
AFP, Reuters, Greenpeace, Green Climate Fund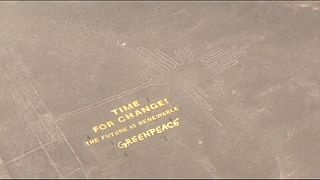 Climate talks have entered their second and final week in Lima. Negotiators from 190 countries are working to hammer out a global deal to limit climate change to be signed in Paris next year.
Time is running out. Inaction will lead to severe and irreversible damage.
So far there is little indication whether optimism will translate into an a agreement that will stick.
A study by climate scientists showed that pledges by China, the US and the EU to limit greenhouse gas emissions will slow global warming, but added that temperatures were still on track to breach a promise to limit warming to 2 degrees Celsius. Beyond that level, scientists warn the effects of climate change will be much more severe. The possible outcomes include extreme heat waves, floods, species extinction and eventually conflicts.
Divisions remain between developed and developing countries over how much the biggest polluters should limit their emissions. Poorer countries are burning more fossil fuels to achieve the levels of development already enjoyed by richer nations. They are asking the developed countries for financial assistance to get up to speed with greener technologies. Last week Australia announced it would stop giving to the Green Climate Fund.
On Sunday, eight Latin American countries launched a reforestation initiative, pledging to restore up to 20 million hectares of degraded forests and farmland. It will benefit from 365 million dollars in private investment from the Althelia Climate Fund, Moringa Fund, Permian Global, Terra Bella and Rare. Many countries in South America have seen rapid deforestation due to the expansion of logging, agriculture and mining activities in recent years.
Greenpeace activists reminded world leaders of their obligations saying this is the time to move towards a 100 percent renewable future, using the historic landmark of Nazca in Peru as a solemn warning.
"We think that these lines are a symbol for climate change, what happened here in the past on a smaller scale happens now on a global scale and the Nazca culture disappeared because of climate change," explained Greenpeace climate campaigner Wolfgang Sadik.
#Action#COP20 à Nazca , Greenpeace interpelle les décideurs : il est TEMPS d'agir – le futur est renouvelable ! pic.twitter.com/e6V9MYCkKP

— Greenpeace France (@greenpeacefr) December 8, 2014
Putting the Philippines in focus following the recent typhoon, Greenpeace International Director Kumi Naidoo said:
"Companies and individuals should no longer be allowed to profit from destroying the climate and placing communities like those in the Philippines in peril. In 2015, governments, as part of their climate commitments, should require that the profits from major carbon polluting companies are used to make the needed investments to fix this problem," said Naidoo.
Last week the UN's meteorological branch reported that 2014 was on track to be the hottest on record, and that 14 of the 15 warmest years occurred in the 21st century.
Bianca Jagger who gave a speech at the summit on Sunday warned, "Time is running out. Inaction will lead to severe and irreversible damage."
Even if a deal is reached at the Paris summit next year, few believe it will go far enough to keep the world within the 2 degrees Celsius limit.