President Obama nominates Ash Carter as new defence secretary
Comments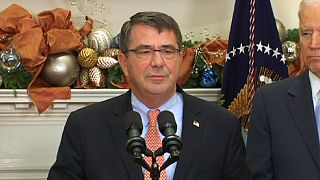 President Obama has nominated Ashton Carter to be his next secretary of defence.
He knows the Department of Defense inside and out...On day one he's going to hit the ground running.
If confirmed by the Senate, he will replace former Republican Senator Chuck Hagel who is stepping down over disagreements with the White House.
The 60-year-old has worked for 11 defence secretaries.
At a ceremony in Washington Obama praised the Pentagon number two's track record.
"With the record of service that has spanned for more than 30 years as a public servant, as an advisor, as a scholar, Ash is rightly regarded as one of our nation's foremost national security leaders.
"He knows the Department of Defense inside and out, all of which means that on day one, he's going to hit the ground running," commented Obama.
US Secretary of State John Kerry voiced his appreciation for Carter on Twitter.
Ash Carter a long-time friend/Yalie who dared teach Harvard</a>, strategic thinker– look forward to wrkg w/ him in new role <a href="https://twitter.com/DeptofDefense">DeptofDefense.

— John Kerry (@JohnKerry) December 5, 2014
Republican Senator John McCain released a statement saying he regarded Carter as a 'highly competent, experienced, hard-working, and committed public servant' with whom he had worked with at the Pentagon on a number of issues.
"I hope that Dr. Carter fully understands that as previous Secretaries of Defense have strongly attested he will likely have limited influence over the tight circle around the president who apparently control the entire strategic decision-making process," added McCain.
Carter gave a brief statement promising to give Obama his most 'candid strategic advice'.
He takes over at a critical time with US military fighting ISIL militants in Iraq and Syria as well as helping to fight Ebola in West Africa all the while juggling spending cuts from Congress.